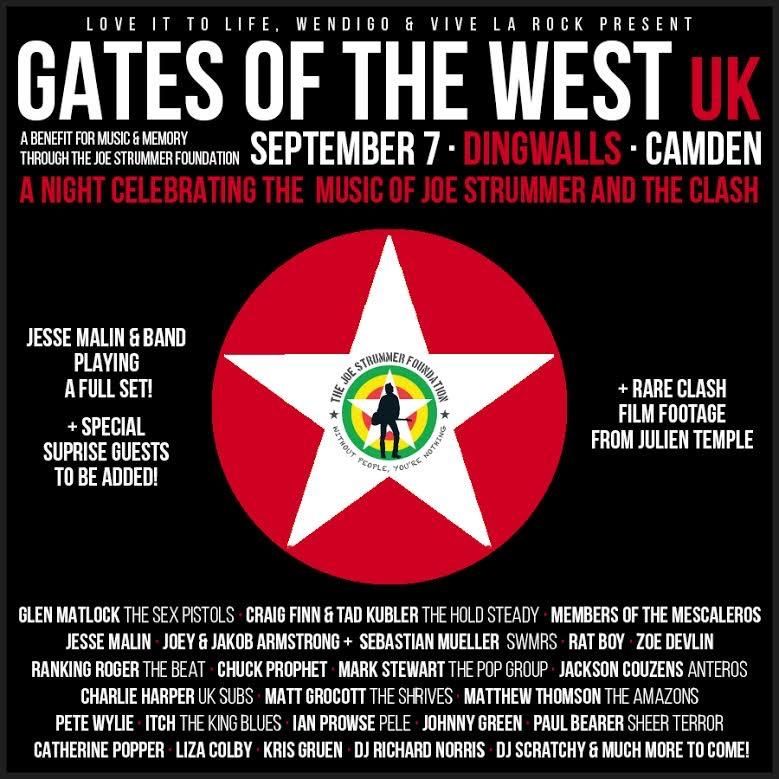 FOR IMMEDIATE RELEASE 
GATES OF THE WEST FESTIVAL COMES TO LONDON, DINGWALLS 
A night celebrating the Music and Message of Joe Strummer and The Clash FEATURING JESSE MALIN AND VERY SPECIAL US and UK GUESTS 
Love it to Life, in conjunction with The Joe Strummer Foundation, Wendigo Productions and Vive Le Rock, is proud to bring the Gates of the West Festival to London on Friday, September 7th at Dingwalls at 7:30. Celebrating the music and life of Joe Strummer and the Clash, all proceeds for Gates of the West go to benefit Music and Memory UK, a nonprofit organisation that brings music to the elderly and infirm suffering from Alzheimers and dementia to reconnect with the world through music-triggered memories, and the Joe Strummer Foundation.
Gates of the West is the brain child of musician Jesse Malin and DJ Jeff Raspe, having first began with sold-out US events in 2017, and will take place in both New York City and London this year. Appropriately, the London event will be at the legendary Dingwalls in Camden, just next door to the old Clash rehearsal studio (Rehearsals Rehearsals), as well as next to the alleyway where the iconic Self-Titled album cover was shot. Malin says the name of the festival came from the Clash song of the same title which celebrates the journey from "Camden Town station to 44th and 8th," connecting our worlds with a guitar and a dream". 
Jesse Malin and his band, featuring Catherine Popper (Jack White / Ryan Adams), Randy Schrager (Scissor Sisters), Rob Clores (Black Crowes), Derek Cruz (Alejandro Escovedo), will be backing an all-star tribute to Joe Strummer (from the 101ers to the Mescaleros) and the Clash, featuring appearances by members of The Mescaleros, Glen Matlock (The Sex Pistols), Craig Finn and Tad Kubler (The Hold Steady), Joey and Jakob Armstrong + Sebastian Mueller (SWMRS), Rat Boy, Mark Stewart (Pop Group), Zoe Devlin, Ranking Roger (The Beat) and Chuck Prophet, among many others (and some special surprise guests). In addition, filmmaker Julien Temple will be showing rare Clash footage, Clash tour manager Johnny Green, will share stories from his time with the band, and several guest DJs will host a Soul Dance Party to follow the event, in the spirit of those crazy nights with Joe and friends dancing on tables all over the world. 
"We want to bring the energy of Joe and The Clash back to Camden for one wild, meaningful, and epic night," explains Malin, "In these dark times we need the spirit of Joe Strummer and The Clash more than ever. So many of lives have been changed by their music and message, and it will continue to live on through the generations." As Joe once famously said, "the future is unwritten." 
Tickets are £20 and available from dingwalls.com or seetickets.com 
https://www.seetickets.com/event/gates-of-the-west/dingwalls/1248868 
http://dingwalls.com/event/gates-of-the-west/ 
On sale on Wednesday, 18 Jul 2018 at 10:00 AM. 
New album 'Strummer 001' out Sept 28th.