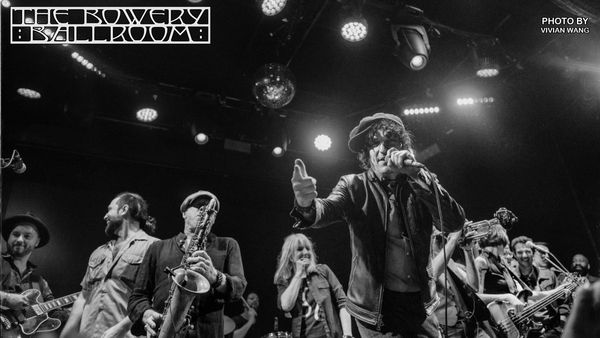 15 September 2018

The 2018 Summer StrummerJam and Gates Of The West shows at Bowery Ballroom in New York City (25 August 2018) and Dingwalls in Camden Town London (07 September 2018) are now behind us. We're slowly recuperating (except Jesse & Derek who are still on tour in the UK and EU). Both shows sold out with over 600 in NYC and over 500 in London!
Thanks to everyone who came out to the shows, Jesse Malin's incredible band (Derek Cruz, Catherine Popper, Randy Schrager, Christine Smith, Rob Clores, Danny Ray & Indofunk Satish) who once again not only had to play a set of Jesse's music but also learn a few dozen Clash/Joe Strummer songs for the Strummer Set, all of the special guests and support acts, our sponsors (Wendigo Productions & Vive Le Rock), the venues and their staffs, the promoters of both shows, our production manager Gillian Stoll, our sound technician Mark Lewis, our stage managers Harry Greenberger & Dean Jones, and our merchandise sellers Mystie Chamberlin & Stephanie Raspe. It was a lot of work but even more fun to celebrate the legacy of one of the greats and raise some money and awareness of our beneficiary charities Music & Memory and The Joe Strummer Foundation with a couple of great nights.

While traveling on tour after the London show, Jesse wrote down a few thoughts: 
I wouldn't be the person I am today without Joe Strummer and The Clash. He brought so many of us together – misfits, dreamers, outcasts, drifters and believers – proving that rock and roll can save lives. This music speaks to you and lets you know you are not alone, that knowledge is power. A world view from the gutter up to the stars, booming with a dirty backbeat and a burning soul, combining many rhythms and cultures, spitting it all out with a worldwide message of unity and life that constantly questions the establishment, but also has a sense of humor to keep you from getting too high on your horse. 
Hanging out with Joe the few times that I did, you could see it was very clear that he walked it like he talked it. He was right there in the moment, open and ready for anything. He was also a great listener; he wanted to know who you were and what you thought. Mick and Paul have always been like that as well- very giving and respectful, down to earth...or street. 
When I was asked by Cousin Jeff Raspe to be part of StrummerJam in 2017 I was a bit wary of treading on sacred ground, and especially bringing it to the homeland of London. A bunch of New York Yanks playing these songs in Camden Town made me skeptical and kind of nervous, but the more I thought about it, the more I realized how relevant all of this is at the moment. The spirit is needed now more than ever, so I accepted the challenge / offer, with a chance to help out some folks in need. 
The Music and Memory part came from an uncle that Jeff and I have who has suffered terribly for many years with dementia. He loved rock and roll and ran night clubs in the 1970's. Like so many of us, music can still be his best medicine. The Strummer Foundation was also a no brainer, supporting artists and youth that don't have the means and giving them ways to be heard and get started up. Seeing the great events and shows they have put on for years with so many cool artists has been very inspiring. 
The name, Gates of the West (which is one of my favorite Clash songs), came from the idea that the places and paths which connect us can create global unity through music. "Have guitar, will travel," running from one port to another, making trouble. As the song says, connecting Camden Town to NYC, so we would do one in New York and one in London. 
After the first rehearsal it was very clear how powerful and timeless these songs truly are. They have a secret mojo that reveals itself when released, from the 101ers to The Mescaleros, The Clash to The Latino Rockabilly War. Watching people find their own spin and take on the songs they picked to play was also really enjoyable and exciting. Getting to spit 'em out at a high volume, under the hot lights, over dirty microphones in a packed, dark room with people dancing away their worries can't be beat. 
I would truly like to thank everyone who came out, played a song, sang along, humped gear, sponsored us (Wendigo Productions/Vive Le Rock), and celebrated the life and legacy of Joe Strummer on these magical nights; especially my band of maniacs, who had learn over 39 songs. May this music be passed down for generations to come, inspiring others to write, rebel and create their own destiny. As it says on the side of an old brick building on East 7thStreet in the Lower East Side, "The future is unwritten." 
Truly, 
Jesse Malin