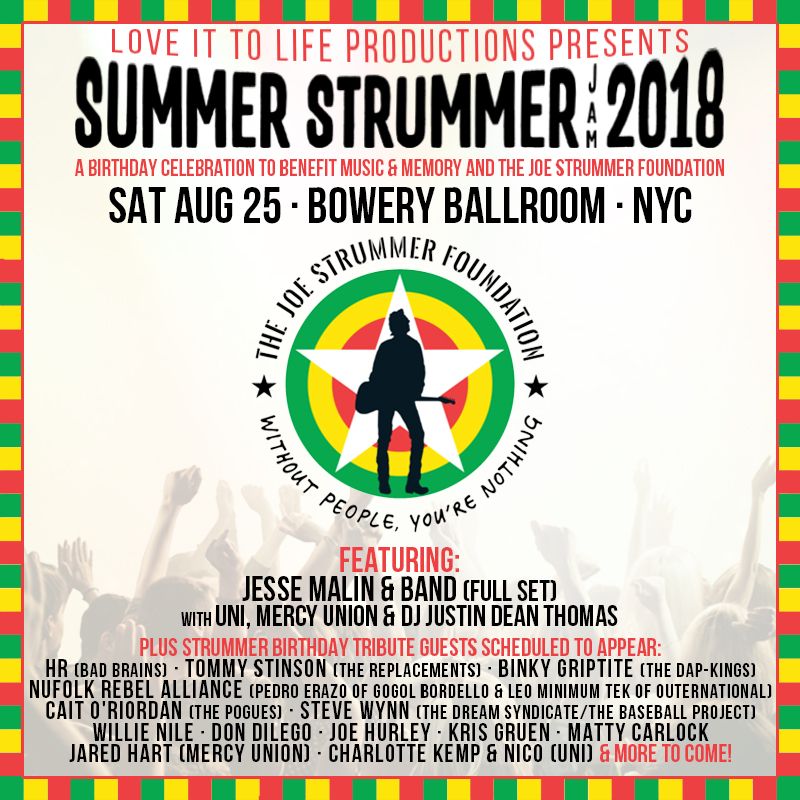 May 11 2018
We're happy to announce the support bands for Summer StrummerJam NYC and the first of our special guests for the Joe Strummer Birthday Tribute set!!
Jesse Malin and Band (full set) 
with Uni 
and Mercy Union 
DJ Justin Dean Thomas 
Special guests scheduled to appear in Joe Strummer Birthday Tribute set... 
HR (Bad Brains) 
Tommy Stinson (Bash & Pop/The Replacements/Guns N Roses) 
Binky Griptite (The Dap-Kings) 
Kris Gruen 
Matty Carlock 
Nufolk Rebel Alliance (Pedro Erazo of Gogol Bordello & Leo Minimum Tek of Outernational) 
Cait O'Riordan (The Pogues) 
Willie Nile 
Steve Wynn (The Dream Syndicate/The Baseball Project) 
Jared Hart (Mercy Union) 
Charlotte Kemp & Nico (Uni) 
Joe Hurley (Rogue's March) 
Don DiLego 
More to be announced!!
  
http://www.mercuryeastpresents.com/boweryballroom/EventDetail?tmeventid=1669096&offerid=0